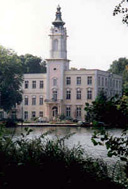 It's party time again. Like every year, the Nation Of Gondwana is scheduled to take place at July 12th/13th. This time it is going to be at Schloss Dammsmühle, close to Berlin. You find an interactive route description starting at Berlin Alexanderplatz here.
Nation Of Gondwana has a track record of being the alternative party event at Love Parade weekend. It is an outstanding open-air event with an interesting line-up of DJs (most notably: Sven Dohse and Der Dritte Raum) and is renowned for its outstanding and very funny performances at the event.
There is photo archive of Nation Of Gondwana 2002. Project Blinkenlights was doing its experimental Bushfire installation there as well.