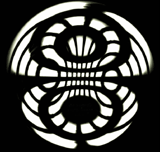 Cybersonica Festival is taking place in London starting tomorrow. It is basically about electronic music and video art but in contrast to Barcelona's Sonar festival it also features symposiums, workshops and presentations in addition to the usual live performances and dance parties.
Falk Gärtner – better known as proto.beamaz:fAlk – will have his apperance there as well. If you are in London, go check it out. He is the one who was contributing the visuals to our Blinkenlights videos and was playing live on the Bibliothèque nationale de France during our Arcade project.
If you live in London, go check out his work.