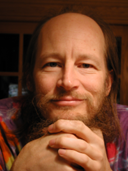 John Gilmore is a "entrepreneur and civil libertarian" (Gilmore about Gilmore) and can be considered one of the true old school hackers. He has announced his participation at the upcoming Camp already months ago. He participated in the first Camp as well.
John Gilmore founded the Electronic Frontier Foundation, the Cypherpunks and the alt newsgroup. The was also Sun Microsystems' fifth employee.
Today, he is widely known for his activity in the civil rights movement. Among other things he raised his voice on copyright issues and other things. Check his home page for more.
At the Camp, John Gilmore is about to give a couple of talks. The first is called "Suing Ashcroft: Anonymity, Right to Travel, Secret Laws" is focusing on the current situation in the United States serving as an update for Europeans. In "EFF – Lessons learned as a cyberrights NGO" he will report on his experiences with the Electronic Frontier Foundation and finally he reports on "Opportunistic Encryption using DNSSEC" including an invitation to hack his DNS setup.