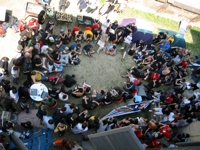 The Hackmeeting has come to end. Traditionally this is done by assembling everybody in a huge discussion circle to talk about how everything has been, what should have been better and what is next.
The next Hackmeeting is going to be in Genua. And there are plans for an additional, trans-national event that much more addresses crowds from other countries calling for participants from Croatia to Spain, from Italy to Germany. And probably everybody else.
As I said before, this is important. Don't know if my presence has stimulated anything but focusing on international events is a good thing. We are trying to do this at the Camp as the dutch hackers have been doing it for more than a decade now.