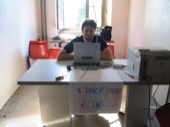 After a five hour flight (there is no direct connection between Berlin and Torino) I finally arrived at the Hackmeeting place called "El Barrio". The event actually starts tomorrow so there are just a couple of people so far.
The event is really cool: entrance is free (although you are free to pay any kind of donation of course). For the first time, Hackmeeting is not taking place at a squatted place but in a former school that is usually empty. Doesn't look as if the administration has any plans for this place in the near future.
However, everything reminds of the good old days of the Chaos Communication Congress at Eidelstedter Bürgerhaus in Hamburg. Cables are running from room to room, old computers fill the tables and the general atmosphere is relaxed and freaky.
On the first floor, you are welcomed by the "human DHCP server" which will hand out a IP address to you on request. I didn't request one. I hacked my way to the server room and attached my AirPort Base Station to the router giving me wireless access to the net. Internet access is a shaped 2 MBit/s connection. Performance is ok. Although the final router is doing NAT and is out of control of the admins. So no Remote Desktop administration for me unless I set up a tunnel. At least I've got something to hack for tomorrow :-)